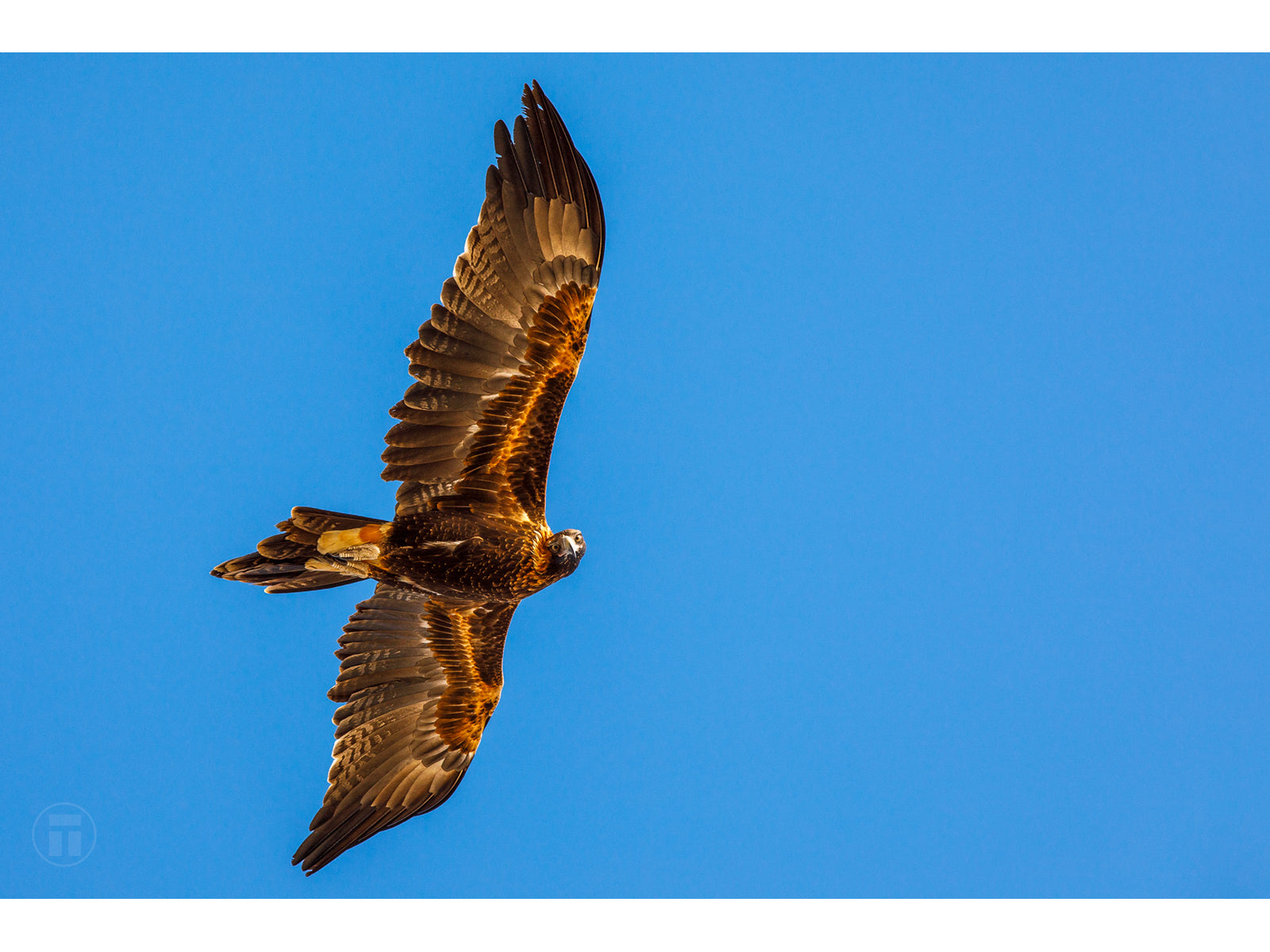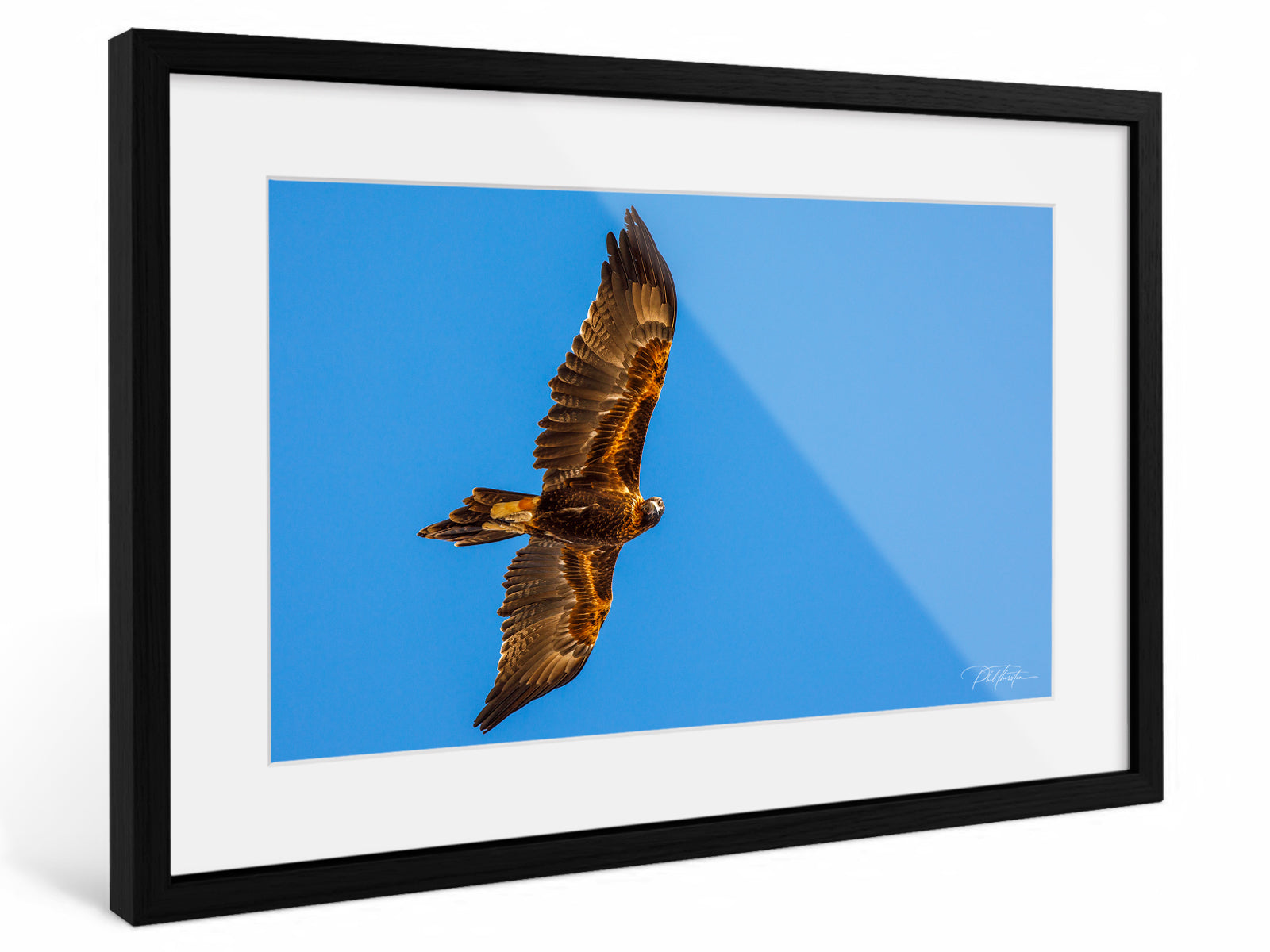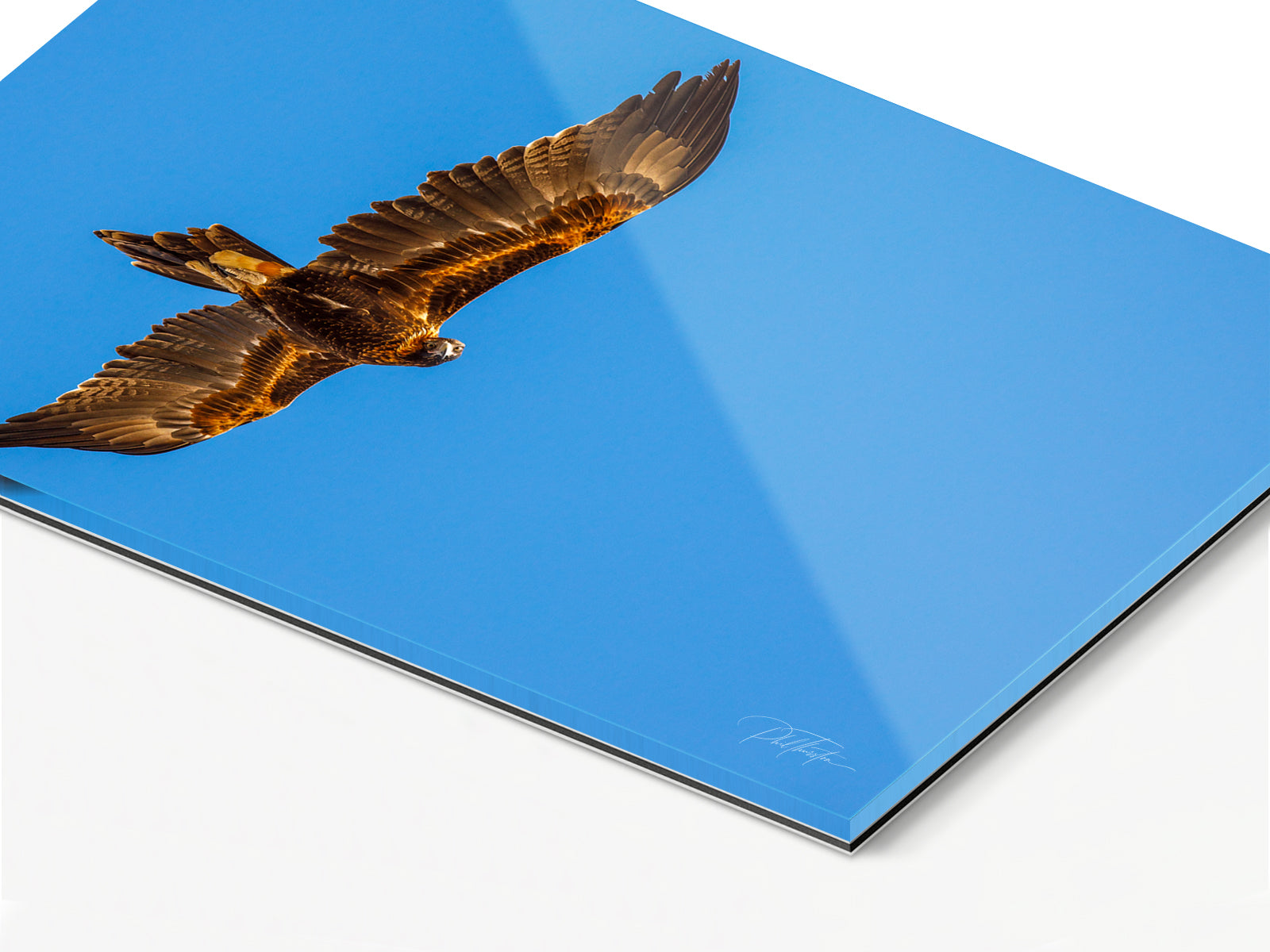 Presence | The Wildlife Collection
The place this photograph was taken was literally cut off from the modern world, and getting there was almost a one way mission. It was late evening, the sun was edging toward the horizon, preparing to take its last breath before it dipped below the surface. I had been wrestling my way down a track that took off half the paint of my little 4WD and gave the suspension a test it was never designed for. I couldn't turn around now. There was only one way. The narrow path ahead.
When I approached what seemed like a drop off, I got out and inspected a gaping ravine carved out of the track by possible floodwaters. Lacking the experience and confidence to tackle this, I prayed, and let my foot off the brake, somehow I managed to crawl down without rolling to a sense of relief mixed with the painstaking awareness that I'd made a grave mistake.
When I arrived on level ground at the entrance to the desert, I broke down and had an anxiety attack. Alone, dark, isolated, no contact, afraid. I thought my heart was going to stop. I honestly thought at one point, I wasn't going to survive the night. I prayed earnestly for God to sustain me through that night, and He came with a blanket of peace that He pulled over me and allowed me to rest.
The next day, I walked about 10km, into the desert, and summited the highest sand dune.i could find. As I stood there, looking out over the golden curves, I admired the shapes that melted into a distant blue ocean. A soft breeze was at my back, I was thankful. Just to be present and exist, the simplest gratitude just permeating my once restless thoughts.
All of a sudden, a large black shadow completely covered me. Startled, I look up and see this, a huge Golden eagle hovering just a few feet above me, completely still, motionless in the wind, we locked eyes. In that moment, I felt like its gaze had penetrated my soul. I shuddered in emotion. I analyzed every detail in its feather covered expanse, the colors of gold, bronze, copper and earthy tones shon brilliantly as the early sun light burnished its raw beauty.
After a few moments, it slowly turned, keeping its eyes locked on me, then banked and allowed the wind to lift it up into the clear blue sky. It circled back, and revisited its position, riveting me with its presence once again. This time I lifted my camera, composed, and eternalized the moment.
Grateful. Though I was isolated, I was not alone. Though I was in a distant foreign land, I was acknowledged. Though I was a misunderstood soul, I was accepted.
Grace, power, beauty. Attributes of the one whom searches the depths of my heart, knows my innermost thoughts, and even though finds no good in me, still chooses to saturate me in His all encompassing loving presence.
For a fleeting moment, I became a stranger to the world, I was home.
PRINT PRODUCT INFORMATION
USA , EUROPE & GLOBAL INVESTORS
Fine Art Paper Prints: Our Fine Art Paper Prints are printed on the beautiful Giclee Hahnemuhle Baryta Satin paper; acclaimed as one of the most elegant fine art print reproductions in the world. It's smooth, clean and low sheen surface gives the images a true to life, vibrant look, with 300gsm weight it just feels prestigiously expensive, because it is.. Prints come with Certificate of Authenticity, info about the image and flat packaged, ready to take straight to a professional framer. Printed in the USA.
Acrylic Panels: Our Acrylic Panels are our most popular fine art medium, and is a premium, full bleed and modern choice for your new art. Printed on Metallic Fine Art Paper then infused into a high quality 1/4" crystal clear, non-glare acrylic panel that floats 1/2" off the wall by utilising the french cleat hanging system. Printed in the USA.
Metal Prints: Our Metal Prints represent a new art medium for preserving the image by infusing dyes directly into a specially coated aluminium sheet with exceptional detail. This allows the image to take on an almost magical luminescent look and feel. It's a revolutionary process that offers our lightest, most vibrant, and durable fine art product. All metal prints come in high gloss infusion, square corners and a 3/4" Inset Frame for hanging. Printed in the USA.
Framed Prints: For our Limited Edition Fine Art Framed Prints we use the same beautiful Giclee Hahnemuhle Baryta Satin paper, with modern genuine wooden Frames in a choice of Bright White, Matte Black or Natural Oak, with an optional choice of a bright white, acid-free mat inset, encased in floating acrylic glass.
Canvases: Our high quality 400gsm Fine Art Stretched Canvases are printed directly onto museum-quality canvas material using high-quality archival inks for amazing reproduction of our fine art. They are then gallery wrapped with a mirrored edge finish over a 1 1/2" stretcher bar made from high quality genuine timber and sealed with a paper backing. Printed in the USA.
AUSTRALIAN INVESTORS
Paper Prints: Our Fine Art Prints is printed on the lustrous ILFORD Galerie 310gsm Smooth Pearl fine art paper, it has a natural photographic white tint to produce superb print quality and consistency with excellent colour gamut and high sharpness. The pearl surface eliminates glare and finger prints giving the true look and feel of a true photographic print. Paper prints come rolled and tubed for protection, take them straight to your professional framer. Printed in Australia.
Acrylic Panels: Our Acrylic Panels are our most popular fine art medium, and is a premium, full bleed and modern choice for your new art. Printed on our Metallic Pearl Paper then infused into a high quality 1/4" crystal clear, non-glare acrylic panel that floats 1/2" off the wall by utilising the french cleat hanging system. Printed in Australia.
Metal Prints: Currently unavailable in Australia. 
Framed Prints: Frames come in a choice of Bright White, Matte Black or Natural Oak with a floating Acrylic Glass panel to protect the art. Made in Australia.
Canvases: Our Fine Art Stretched Canvas option is printed on Eclipse 310gsm Premium Satin Solvent Canvas, offering an incredible colour gammut, superior colour brilliance and image definition for your new print. Additionally, the unique printing process results in a protected canvas, that has water, UV and dust resistance built-in for long lasting durability. They are then, gallery wrapped over a stretcher bar made from quality genuine timber and finished with a tape seal backing. Printed in Australia.
Once you place your order, we typically process it within 24-48hrs. Our print facility then schedules it in for production, a process that we are very passionate about. Our Print Masters take every single detail into account in order to reproduce the art in the highest quality possible. If at any stage you have questions regarding our production process, please feel free to get in touch by emailing pt@thurstonphoto.com and we will follow up your order immediately. 
All our Signature metal, canvas and paper prints come machine signed in the bottom right hand corner of each print as shown. Acrylic prints come digitally signed.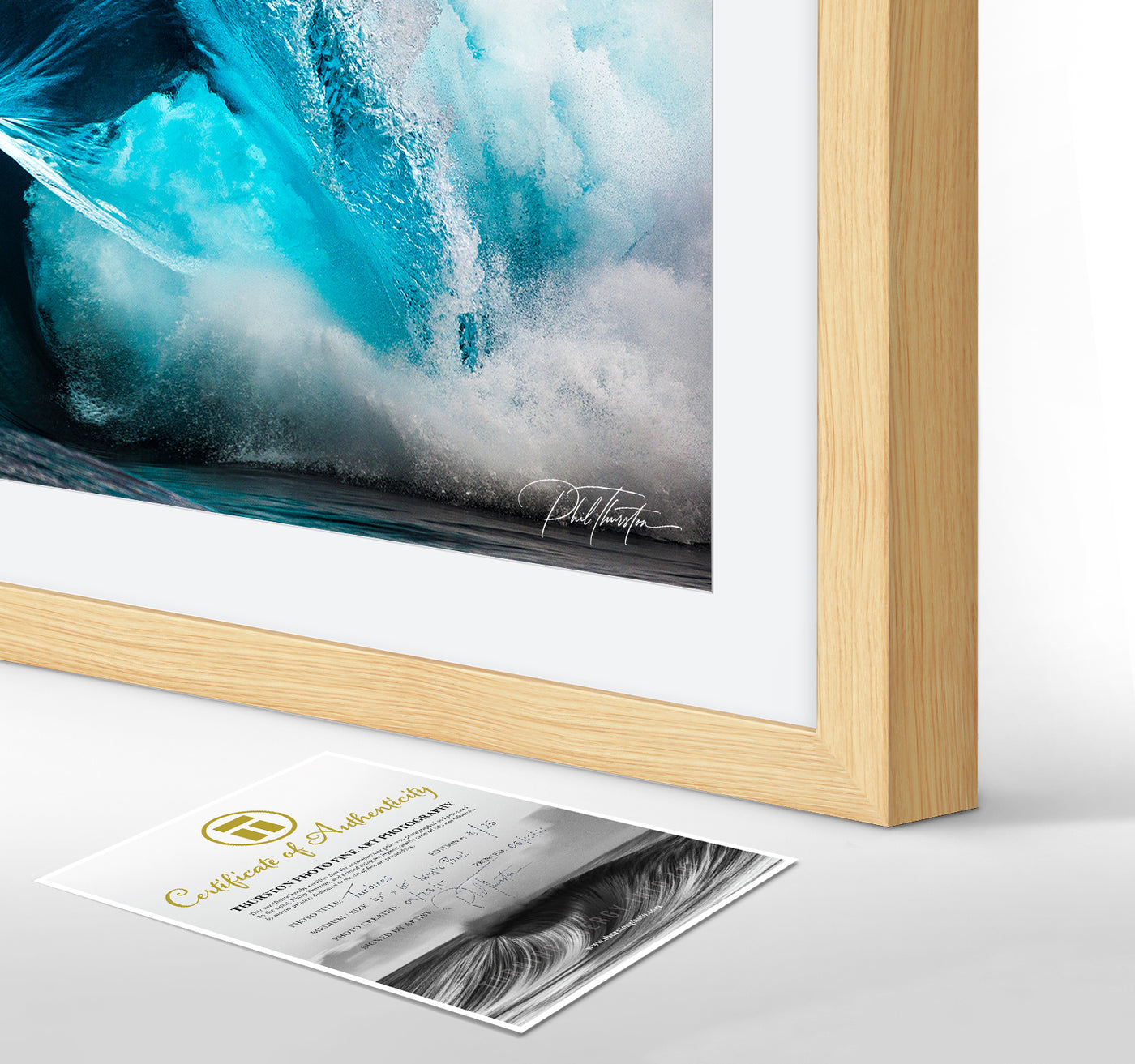 THURSTON PHOTO
Limited Editions Prints.
All Thurston Photo prints 20"x30" and up are one of 200 limited edition prints. Each LE print is accompanied by a hand signed certificate and edition number to authenticate its originality. 
"Waves are very beautiful and even symbolic, and I'm learning to see a lot more in a photograph than elegantly organised matter." The cooperation of light and water create a subject that compels me to seek something more profound and artistically inclined than that which my eyes reveal to me. When I'm immersed in nature, I see intelligent design, I see intentional energy and i see irrefutable purpose in every aspect of every detail, but above all this, I see a very clear, artistic flare woven through every living and moving thing."