Introducing the One Project, by Thurston Photo.
One moment, one wave, one print. 
The concept behind this project is to return to the origin and soul of art itself, to create a one off, one of a kind, original piece of art. You see as an artist, I began with paints before I moved into pixels, and the importance of originality and genuine artistry has never left me. I believe photography and the way it can be mass produced has overly saturated and even devalued the concept of art and what it means to be an artist today. Returning to the idea that we can use modern technology to create original art is exciting and I cannot wait to explore this idea of offering original pieces of ocean art, primarily focused on the subject I love to pursue more than anything, the breaking wave.
Each ONE project print is verified by Thurston as being the only image of this moment in existence, and the ONLY printed copy of this image in the world. A completely unique and one of a kind artwork of a moment in time where the elements of light, wind, water, tide, swell, atmosphere, sky, the firmament, all came into agreement for a singular goal, to create art that glorifies the one.
Empty collection
This collection does not contain any products.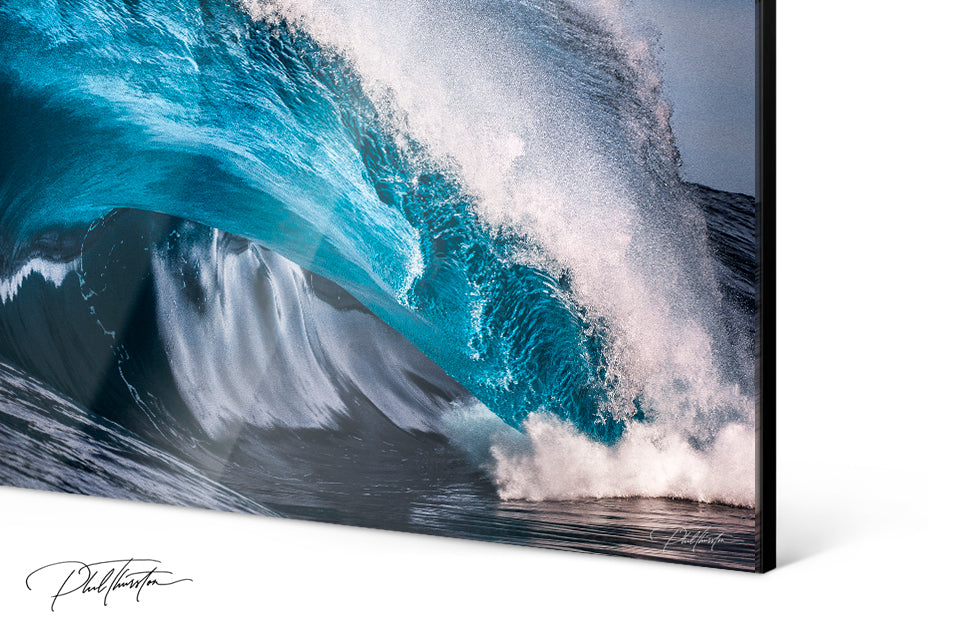 FINE ART PIGMENT UNDER MATTE ACRYLIC GLASS
1/1 WORLDCLASS QUALITY
Thurston One of a Kind Signature prints are handled by the best masterprint makers in the world using the latest printing technology that satisfies the highest fine art demands. Not a dime is spared in making this the absolute pinnacle of fine art invesment. Each print is proofed and carefully examined and approved to ensure the finest reproduction detail before being printed using Fine Art pigment inks and the latest inkjet printing processes. It's then secured by Alu-Dibond backing and set behind 1/16" matte acrylic glass with clear permanently elastic silicone for a beautiful reflection free finish. Each print comes encased in a Black Aluminium slimline frame to protect the art and aluminium mounting brackets for an easy installation.
"There's also a deeper meaning to this project for me and it's derived from the reason I pursue these moments in the first place. My new book; "The One", deep dives into the concept behind the project and explores the origins of my journey as an artist, photographer and believer."